While an electronic drum kit is a great way to learn how to play and take into the recording studio, it's pricey for simple practice when you don't wish to disturb everyone early in the morning or late at night when they're still trying to sleep. If you already own an acoustic drum set but it's too loud at certain times of the day to get the right number of practice sessions in to become an accomplished drummer (or just to keep your skills from getting rusty) then the drum practice pad is the right product for you.
The best drum practice pads look good while heavily dampening the sound output each time they're struck.
Let's jump right in with both drum sticks with a review of the top 5 drum practice pads for your consideration.
The 5 Best Drum Practice Pads In 2022
ADM 12″ Silent Snare Drum Practice Pad
This ADM practice drum pad comes in a bundle. It has a 12-inch snare drum practice along with a serviceable metal stand to hold it up.
The stand itself is adjustable up to 19-inches taller than its lowest height, so it will be sufficient for any size of man or woman playing drums. The stand folds down conveniently for when taking it to a friend's house, a studio to practice, or simply transporting it. It's not that robust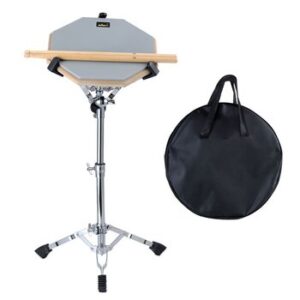 and won't blow you away with its strength, but it's only designed for this pad alone (it won't hold a separate snare drum up). The bottom of the tri-stand has heavy rubberized leg stoppers with indentations in each rubber stopper to gain more grip on the ground. This stops the stand from slipping around gradually when the practice pad is stuck.
A pair of drum sticks are also provided in the box. They're again decent but nothing fancy. Good enough to practice with, but anyone who sticks with it will eventually find the need to replace them with something better.
The angular snare drum pad is 12-inches in diameter. It has two-sided usefulness. Its surface on one side is made from a soft rubber material that gives quite a bouncy responsiveness when going at it in a practice drum session. There's also a hard rubber side used as well to provide greater strength for a harder practice session on the back side of this two-sided pad. This is necessary to create a realistic response when hitting the drum pad in comparison to the feeling of striking a larger snare drum.
An attractive black carrying bag with carrying handles is provided too. It is only large enough to transport the drum practice pad and sticking; not the stand as well.
Pros
Two-sided practice snare drum pad
Soft rubber on one side
Hard rubber on the other side
Stand with a tri-leg set up to hold the practice pad in place
Stand has an adjustable height of up to 19-inches
Non-slip rubber feet on the stand
Complimentary drum sticks
Carry bag
Cons
Stand isn't great quality
Stand won't hold a snare drum; only the practice pad for one
Double-Sided Practice Pad, All-in-1
The 12-inch practice pad for drumming is designed to cover a concert snare, marching, or general snare drum. It has a novel approach with its design where it both supports a two-sided drum pad design but also uses inserts to change the dynamics and features of the drum pad itself.
One side of the pad is designed with a softer rubber silicone which has less rebound when striking it with one or two drum sticks. This is great for drummers who wish to practice quietly to improve their sense of smooth performance. The other side is made from stronger
silicone rubber and has inserts that can add to its responsiveness in different ways.
The first insert mentioned in the previous paragraph dons a laminated surface for a different feel when striking it. This can be slid in and out as needed to change the feel of any drumming practice.
The second insert has a conditioning film to it that reduces the rebounding effect and dulls the sound from the drum sufficiently to focus on fine-tuning your performance at the drums. There's also an element of absorption of reverberation when striking the drum with this insert added, which reduces finger and hand fatigue when practicing for long periods. However, the drum still offers a good rebound and feel when set up this way.
This product is a more interesting one because due to not only the two-sided setup with different rubber surfaces used but the addition of extra inserts; it's like having four drum pads in one. Excellent value in our opinion with this highly functional product as a result.
Pros
Two-sided round drum pad for snare drum
One side is soft rubber for practice with reduced sound
Another side is a harder rubber for greater responsiveness
Two inserts add a laminated cover or a conditioning cover for a reduced response for quieter practices
12-inch diameter drum practice cover
Raised rim is preferred by drummers for including a rim sound
4-in-1 product that's rare for a practice pad
Cons
Plastic rim; some may have preferred metal or wood, but it keeps it lighter
Hisonic Signature Series LXG-20 10″ with Stand & Sticks
The Hisonic Signature Series LXG-20 is a slightly smaller 10-inch diameter drum practice pad. The manufacturing has created a noticeable production odor when sitting at this pad which might not be to every buyer's liking. Nonetheless, it's a suitable smaller pad for practicing.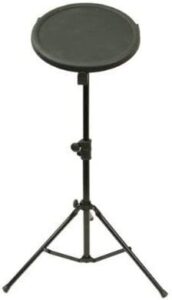 The practice pad comes with its tri-legged stand. The stand's height is adjustable from 20-inches to 32-inches depending on the seated height of the drummer. There are small rubberized stoppers to prevent the stand from sliding around, however, they're significantly smaller than other provided stands with some drum practice pads received in this guide. It's also not as easy to put together with some buyers having trouble figuring out how to do it. It has a pivot point that tends to work loose and it's not as sturdy as it might be. Nevertheless, the practice pad can be placed on a table and used that way too.
The pair of drum sticks provided are size 5A which suits people with larger hands a little better than people with smaller ones.
The whole package can fold up and is portable. This type of product might be used by students to go to band practice at school.
Pros
Budget 10-inch practice drum pad
Single-sided round pad
Stand provided
Adjustable stand height from 20-inches to 32-inches
Drum sticks provided (Size 5A)
Cons
Pad has an odd rubber odor to it
Drums stick a bit too large for some people
Stand tends to break when adjusting it and it has to assemble too
Vic Firth 12″ Double-sided Practice Pad
This Vic Firth branded practice pad is a 12-inch diameter one with an annular outer design and an inner circular inset.
The pad itself has two designs, one on either side. The top side has a softer rubber which is designed to dull the sound of a drum stick
impacting it. On the bottom side is a harder rubber that creates more reverberation when striking the drum pad each time and is more realistic compared to playing the snare drum during a performance.
The drum has a wooden base which is quite appealing and gives it a proper sense of higher quality than some other practice pads in the category. It doesn't have an overlapping rim per se, so it's different in design from some other drum practice pads in that respect too.
The rubber components within the pad do not give off a significant rubber odor.
The Vic Firth brand is a reliable one. They tend to produce quality drumming equipment that musicians and learners trust. The same is true with this product.
Pros
12-inch diameter Vic Firth drum practice pad
High quality
Two-sides design
Soft rubber on the top side for dulled drumming practice sounds
Harder rubber on button side for realistic responsiveness
Wooden base
Cons
Strong Vic Firth branding which might not appeal to some buyers
Remo RT-0010-00 10″ Gray Tunable Practice Pad
This Remo Tunable Practice Pad comes with a raised inner rim and a lower outer rim. It is tunable as well to adjust how it sounds to a certain degree.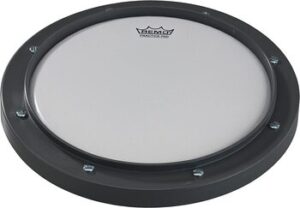 The product being reviewed is the 10-inch sized practice drum pad, however, Remo also offers an 8-inch and a 6-inch version too. This drum pad comes in a grey color, but there's also a model which includes a stand and drum pad, along with another solo drum pad with a red and ebony color scheme (red on the outer rim and ebony interior drum pad). This mix of different product versions provides considerable flexibility for the new drummer looking to practice successfully and regularly.
The drum is aimed at beginners for the most part, but it still has enough features to suit a professional too. The top of the drum pad has a coating to make it pop. There's a good bouncy feel to it like playing an acoustic drum. It's also ready to be mounted upright on a drum stand – either the stand that's available with another version of this product or another high-top stand made by another manufacturer which has a platform and secure grips to hold the drum practice pad in place properly.
The underside of this pad has a rubber surface to avoid scratches changing how the pad sounds. The rubber texture means that the practice pad can be used without a stand by sitting it on your lap or laying it on a coffee table in front of you too.
Pros
10-inch diameter drum practice pad
Model also has a 6-inch and 8-inch version that's otherwise identical
Model also has red and ivory color options, and a gray one with a stand
Bouncy single-sided practice pad with a coating
Rubber underside to help the pad stick to a table or other surface for playing
Cons
No instructions provided for how to use the tunable feature
Doesn't dampen the sound from striking the drum as much as you'd expect
How to Select The Best Quality Drum Practice Pad Kit
A practice drum pad is designed to produce a similar drumming experience in practice without needing to drive relatives and neighbors crazy with drumming practice at all hours of the day and night.
While an electronic drum kit is ideal to hear how your drumming sounds without the need for an acoustic drum kit, a practice pad for drumming offers a realistic, low-sound alternative that's even better in many ways for practice sessions.
Do bear in mind that with an electronic drum kit, they have audio outputs to listen to the drum sounds via a set of headphones to remove all sound completely. This is possible because it's entirely digitally generated (not acoustically produced). However, a full electronic drum kit is more expensive, takes up considerably greater floor space, and isn't always required. Therefore, a good alternative is a practice drum pad instead.
Drum pads come in a variety of sizes. They're measured by their diameter across the pad. There isn't a standard size, but it's common to see 12-inch practice drum pads being marketed most widely. It looks and feels more like a genuine snare drum from above.
There are also smaller 10-inch and 8-inch sizes, plus the occasional model that offers a 6-inch size too. The smaller sizes are useful when taking them to school for band practice or music appreciation classes because they're lighter and easier to handle for kids. It's also possible to fit more musical equipment into a hall when not trying to include multiple full drum kits in there!
Single Sided vs Double Sided
With practice pads, they are either single-sided or double-sided. The single-sided ones usually have a rubber surface that provides a certain response. If they're softer rubber, then they dull the sound far more and are less bouncy. With harder rubber, the responsiveness and bounce on the drum stick after striking the drum pad are significantly greater. This makes a difference when practicing for long periods regularly and how much impact damage your fingers take that feel the reverberations each time the stick hits the drum pad.
A few drum practice pads come with one or more inserts. These will slide across and into the top surface of the pad to give it a different look, feel, and response. Some are shiny and more responsive whereas others soften the response with each drum stroke. The inserts effectively mean you have a single drum but several different results, i.e. a 2-in-1 or 3-in-1 drum practice pad which is attractive.
The central idea with drum practice pads is that they don't make much sound when struck. This is mostly the case. However, it differs between manufacturers and product SKUs. It also varies when striking harder or softer rubber or when different inserts are utilized. If you need an extremely quiet practice pad, pay special attention to mention of this aspect.
Stand on a Tripod or No Stand
It is possible to place a practice drum pad down on your lap or table and play from there. However, a tripod stand is useful to hold up the practice pad, so you can sit on a stool and play with it right in front of you. Some products come with a hi-hat stand whereas others do not.
Typically, the stands that are provided with these affordable practice pads aren't the greatest. If you need a high-quality stand separately, it's better to buy one that will hold a drum securely or a practice pad when that's needed instead.
Usually, but not always, a set of drum sticks is provided. They vary in size and the size may not be indicated or consistent. It's best to plan to buy a separate set of quality drum sticks that are the right size for your hands and not rely on the ones that come in the box.
Some practice pads come with a carrying bag that fits the practice pad and drum sticks, but not the stand.
Conclusion
Practice drum pads are a useful extra to have when learning to play the drums. They allow you to not bother people while you learn and get a proper feel for drum position and correct technique. You're no longer hindered by when you can have practice sessions based on when everyone is out of the house. This is very freeing for new drummers who need as much practice as they can get. Good luck with your drumming and hopefully you'll be playing in a successful band one day.