While the age of kings and queens ended centuries ago, the throne is still with us. No, not the one in the bathroom. The one you sit on when playing drums. Drummers know that the quality of their work is dependent on several things: the type and quality of the drums, the type and quality of the drum sticks, their raw talent, and the throne they occupy.
If any one of these elements is not up to snuff, the sound the drummer contributes to underpin the music will be on shaky ground. Drum thrones come in several sizes and configurations, so it's crucial to find one that enables your ability and lends itself to your style of play. Below we're going to look at the best drum thrones on the market today.
Best Drum Thrones With Backrest In 2022
Ahead Spinal G Drum Throne
With the Spinal G Throne Ahead has gone the extra mile to accommodate the often conflicting requirements of comfort and performance. It provides a high degree of support that is designed with actual human physiology in mind. Ahead calls it "ergo kinetic" design, which sounds pretty fancy. But actually, it just means that the seat enables you to project energy from your body into the drums in the most efficient way possible.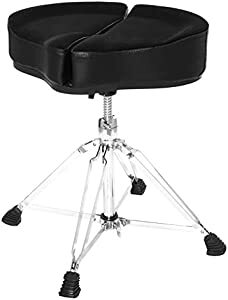 Part of the outstanding ergonomics of the chair can be traced to the split seat design. This allows you to operate foot pedals independently without the actions of your right foot affecting the comfort and stability of your left cheek. And vice versa. The channel that runs down the center of the chair also ensures that pressure is removed from your tailbone. Which removes pressure on your spine and prevents a major source of fatigue.
While we may take issue with the pseudo-scientific terminology we can't argue with the easy comfort of the Spinal G. Everything from the non-stick velour seat wrapping to the width of the seat to the extremely stable 4-legged base contributes to that comfort. The bottom line is that this is maybe the best-built drum throne on the market today. One that will enable you to make the most of your raw talent. And one that's destined to be with you for the long haul.
Pros
Memory foam cushion shapes itself to your physiology.
The double-locking height adjustment ensures you always have a secure platform.
The stand is connected to the seat via a sturdy stainless connector plate.
It's easy to sit on for long periods and extremely stable no matter how hard you're pounding away.
Cons
Ergo kinetics sounds good, but it's just a marketing term.
One of the more expensive thrones out there.
The higher you go, the more you undermine stability.
You have to manually lift and lower the seat.
BOLT Motorcycle Style Nitro Drum Throne
The Nitro Motorcycle Style Drum Throne from Bolt is a big, wide, comfortable throne that's firm yet forgiving and designed to handle the biggest of drummers. It has something we'd like to see in all drum thrones: pneumatic height adjustment. That's what you see on any decent office chair manufactured in the past 20 years. And it's a bit of a wonder that more drum thrones don't offer it. Not even the otherwise outstanding (and more expensive) Ahead Spinal G.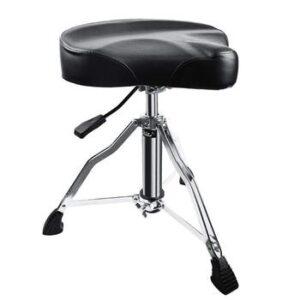 With a weight capacity of 500 pounds and the ability to project the seat upward to 24″ in vertical height, there are few adult drummers on planet earth this seat won't accommodate. Though we have to question the wisdom of making such a strong seat with only 3 legs instead of 4. That said, this is still a very practical, no-nonsense drum throne that's going to maintain its comfortable aspect regardless of how long the jam session wears on.
Another subtle aspect of the chair is that the pneumatic piston that drives the vertical motion is a pneumatic shock absorber. That means that when you're hammering away, you're going to notice the seat bouncing up and down slightly. As for build quality; the frame is made from high-grade, chrome-plated steel with sticky rubber feet that prevent the chair from sliding to and fro as you work. While all welds on the chair are 100% guaranteed by Bolt.
Pros
The throne has an impressive maximum weight limit of 500 pounds.
It's fully adjustable between 18 and 24 inches so you'll find just the right height.
Adjustability is powered by a pneumatic lift that makes moving up and down a breeze.
The throne spins freely. This way it's never the seat that's holding you back.
The contoured seat lets you hold down the throne for hours on end.
Cons
Some people are not going to like that freely spinning seat.
With only 3 legs we wouldn't want to put 400 or 500 pounds on it and test the stability.
The staples on the bottom holding the cover in place don't inspire confidence.
Gibraltar Pro Oversized Motorcycle Style Throne
The Gibraltar Pro Oversized Motorcycle Style Throne is another no-nonsense drumming throne that holds down the fort the way your drumming holds down the rhythm section. It features a tough but comfortable Cordura vinyl seat covering and adjusts from 20 to 28 inches high. The padding in the cushion itself has a little extra give which enables it to wrap around your butt to keep you in place.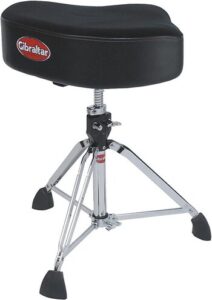 The rubber feet prevent the chair from sliding around regardless of your style of play. The "super-lock" fastening system ensures the seat doesn't wander either. And at 17 inches wide that seat is big enough to accommodate pretty much anyone, anywhere. The 3 legs are double braced to ensure durability and longevity. They're also fashioned from high-grade steel and have a handsome, mirrored chrome plating.
Adjusting the height takes a bit of work since this is a screw-type adjustment mechanism. You first need to unlock the screw, then twirl it until you reach your preferred height, and then lock it back in place. Rinse and repeat until you find the right height. While that's not the end of the world, we would love to see a pneumatic lift mechanism instead. But you can't always get what you want.
All in all, this is a big, tough, basically well-built drum throne that's going to answer the call for years to come. And while we have a few issues with it, none of them are deal-breakers.
Pros
The oversized seat is one of the more comfortable ones Gibraltar makes.
Build quality is good to excellent throughout.
There aren't any fancy-pants ergonomics at work here yet it encourages proper posture.
The double-braced legs never flinch even under those weighing 200+ pounds.
Cons
The screw style height adjustment is so 20th century.
Not one of the more attractive drum thrones out there. Not that that matters very much.
The tripod leg setup gets progressively less stable the higher you go with the seat.
It's heavier than other minimalist drum thrones.
Gibraltar Softy Drum Throne
While we're on the subject of Gibraltar thrones, their Softy Drum Throne is a real treat for your seat. It's not pretending to embrace specious, almost-scientific concepts. Nor is it going the route of the bicycle seat. Instead, it simply provides 5 inches of luscious memory foam that settles into you as much as you settle into it. It's bare-bones comfort and practicality at its best and might be one of the best values out there.
We'd put this seat higher on our list if not for the screw-type height adjustment. We understand it saves them money to make it like this, but we'd gladly pay a few extra bucks if they'd just incorporate a pneumatic lift instead. And while we applaud the upper height limit of 30 inches – rather than the 24 most seats provide – the 3-leg system undermines stability when you're at max height extension.
That said if you're down closer to the floor and you tend to just adjust your seat once and leave it there forever, neither of those complaints will resonate with you. And that's fine. We're just relaying our experience and opinion. The bottom line is that this is a well-made drum throne that's comfortable and practical and will likely stand the test of time.
Pros
Thick comfortable seat covered in durable Cordura fabric that eliminates stickiness.
5 full inches of memory foam is the gift that keeps on giving.
The solid rubber feet take hold of the stage floor and don't let go.
The stand is fashioned from rugged and attractive chrome-plated steel.
It will adjust upwards to 30 inches. And that will appeal to a lot of tall drummers who often seem neglected by throne makers.
Cons
Gibraltar can continue to produce screw-style adjustment columns, and we'll continue not to like them very much.
The tripod leg setup is the least stable you can get when the seat is fully extended upward.
While we love the 5-inch cushion, it can sometimes take a while to find a comfortable position.
Drum Workshop CP5100 5000 Series Throne
The final throne on our list comes from Drum Workshop. Their CP5100 Series Throne is simple and almost elegant. ("Almost" because drumming isn't an elegant business.) The seat itself is not one of those bicycle-style seats on steroids. It's a simple, classic stool configuration that's tried and true and easy to get used to. But while the vinyl covering is tough and will no doubt hold up to years of use, it's going to get
sweaty, and you may have to retrofit your cloth seat cover to compensate.
Beyond that, though the CP5100 is comfortable and with a 13-inch diameter seat that adjusts vertically from 21 to 29 inches. The company is cagey about the upper weight limit of the chair. But we had a 200-pounder test it out, and he had no issues with it. The padding here is 3 inches thick. Some people will prefer the 5 inches they get from the Gibraltar throne we just reviewed. Others, however, want a firmer seat. And that makes the CP5100 a solid option for them.
If you're looking for a well-built, classic, stool-type drumming chair at an affordable price, the DW CP5100 Series warrants your serious consideration. It's simple, well-made, and comfy and you'll have money left over to eat with.
Pros
Built to last with chrome-plated steel base and durable vinyl-covered seat.
The classic stool design is familiar to most drummers and doesn't take time to adjust to.
The rubber feet are very grippy and don't allow the chair to move around while you're working.
The height locking mechanism is comprised of strong, durable components.
The price is going to appeal to a lot of people.
Cons
Another, labor-intensive, screw-style adjustment column. Sigh.
The 3 inches of padding isn't going to appeal to everyone.
Something less than ideal for long shows or jam sessions.
The height adjustment lock may come a bit lose if you swivel back and forth while drumming.
How to Choose the Top Rated Drum Thrones
Choosing the best drum throne isn't like choosing chairs for the dining room. You're not going to be pulling your drumming throne up to your pre-war Duncan Phyfe dining table and extending your pinky as you reach for the salad fork. No sir. You need to be seated high and comfortably so that you can pound the hell out of your drums all night long. Because of that, there are several things you'll want to keep in mind when choosing a drum throne.
Adjustability – If you're the kind of drummer who adjusts his or her seat a lot to provide different degrees of leverage and power, the screw-style seat is going to drive you bonkers. Instead, you'll want a pneumatic piston that will enable quick and easy adjustment on the fly. That said, if you still haven't adjusted your current throne since you first set it up 9 years ago, a screw-style adjustment mechanism might be a-okay for you.
Stability – Drummers work. They grind and sweat and pound and smack and shake the foundation of the earth. Or at least they try. To do this, they need a platform under them that is going to stay put and stay upright no matter how hot and heavy things get. Essentially, you have 2 choices when it comes to the design of the stand: 3 legs or 4 legs. Keep in mind that the higher you adjust the seat, the more stable the legs need to be. So if you're a tall drummer, you may well want a 4 legged throne. Whereas if you sit closer to the stage 3 legs might be just fine. Your weight will also factor into determining whether 3 or 4 legs are right for you.
The seat – Most drummers grew up using some type of stool. But stools, while practical and familiar, do have their drawbacks. They're typically not so comfortable throughout a long night, and they aren't necessarily the most stable of drumming platforms either. Big, wide bicycle-style seats have become all the rage in recent years, and it's easy to see why. They're wide enough to accommodate any size butt, they're very stable, and some even offer independent shock absorption on the left and right sides. The seat covering is also key to comfort. Vinyl, while durable, is a sweat magnet. While fabric covers are much more comfortable and won't stick to you.
To spin or not to spin – Some drum seats swivel freely from side to side. This allows you optimal freedom of movement while drumming. To some people though this type of movement is a distraction that can take away from their performance. So you have to ask yourself which kind of drummer are you? Someone who likes a nice firm, stable seat under them? Or someone who treasures freedom of movement while drumming?
Backrest or no backrest – You won't see any backrests on our list. That's because at heart we're purists. But that's not to say backrests don't have their place. Some drummers swear by them. And some drummers need them because they may be dealing with back issues. Make sure you get the style of the throne you both want and need. The long-term health of your back may depend on it.
Conclusion
The drum throne you choose will play as big a part in your performance as your sticks or skins or your innate ability. Choose wisely and you'll ensure you get the most from your talent and your kit. Choose poorly and you'll wonder why your drumming isn't living up to your lofty expectations. Any of the drum thrones profiled above should serve you well over the long haul. Just keep the above considerations in mind to make sure you get the right one for you.