When watching your favorite band the last thing that's likely on your mind is the sticks the drummer is using. But while the type of drum sticks doesn't matter to the average fan it matters to you if you're the person holding those sticks. The drum stick is crucial to creating exactly the type of sound you're after and also vital in establishing your relationship with your drum kit as a whole, your comfort level, and noise level to boot.
Pick the wrong sticks and they'll be breaking every 10 minutes or just not producing the kind of emphatic backbeat you want. Pick the right drum sticks and the audience will be eating out of your hand. Below we're going to take a close look at the best drum sticks currently on the market in the hope that the information will help you make an informed choice the next time you purchase drum sticks.
Best 5 Drum Sticks For Beginners 2022 Reviews
On Stage Maple 7A Wood Tip Drum Sticks
On Stage are not known for their drum sticks. They only recently began producing them after many years of making their reputation manufacturing largely well-regarded microphone stands. They have also chosen to enter the drum stick marketplace at the budget end and their Maple 7A Wood Tip sticks are pretty representative of what they're offering.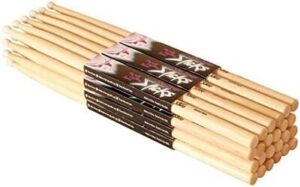 Maple isn't a material that comes immediately to mind when thinking or talking about drum sticks. Most prefer hickory or even oak for their hardness and ability to create authoritative percussive effects. But maple has its charms. Maple is used for bowling pins, bowling lanes, pool cues, and more because it is a medium density material that's not too heavy and yet has a substantial feel nonetheless. It only makes sense that it would also make an excellent drum stick. As it's a slightly softer material you're going to get a slightly more subtle sound out of your kit, and that's often exactly what's required for many pop and jazz-influenced songs as well as country and other styles that don't require you to shake the hall to its foundations.
These Maple 7A sticks from On Stage have been carefully crafted from this most versatile of wood products to always feel just right in your hands and to provide you the expressive range you need as you shift from piece to piece during your performance. Whereas oak may be too brute a force for a ballad, maple is just what the doctor ordered. It will also allow you to transition to a more forceful number without having to change sticks, saving you time and allowing you to concentrate on your performance and not your equipment.
On Stage sells their Maple 7A sticks in packs of 12 pairs each. When you break it down price-wise you'll be paying less than a buck a stick. Compare that to other sticks that will cost 10 times as much and you begin to understand why these On-Stage drum sticks have made such an impression in so short a time.
Pros
A fairly substantial feel for "discount" drum sticks
Maple is one of the most satisfying of the stick woods
Resists warping better than most competitor's sticks
Stands up to all but the most aggressive styles of play
A sleek stylish look and feel
Cons
Pairs are sometimes less than perfect matches
Zildjian 5B Nylon Black Drum Sticks
When Avedis Zildjian started his company there was no US and William Shakespeare had died just a few years earlier. The Zildjian company is one of the oldest continually operating companies in the world and will soon celebrate its 400th birthday. You don't last 4 centuries in the business world by producing junk and the Zildjian 5B Nylon Black Drum Sticks are a good example of why discerning musicians keep returning to Zildjian products time and time again.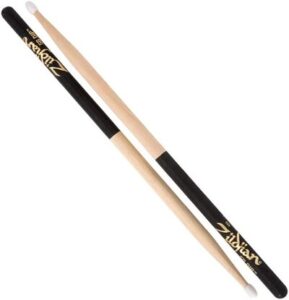 Today Zildjian is based in Massachusetts in the US but their commitment to quality is just as strong as it was in Constantinople in the 17th century. The company also does a great job keeping up with changes in the music industry and their 5B sticks are a good example of this. They're ideal for today's mesh head electronic drum kits providing the right balance of force and subtlety. With their nylon tip, these are drum sticks fashioned with your hands in mind and as a result, you're not likely to suffer the same type of lower arm fatigue that can plague you when you use lesser drum sticks.
The 5B is a classic teardrop-head stick of medium weight and girth that is a favorite go-to stick for drummers who need to switch gears during a show. As we said it's ideal for use with today's electronic sets but it doesn't shy away from traditional drum kits either. When you're laying into your kit you need to know your drum sticks aren't going to go flying out of your hand and to that end, Zildjian treats the 5B with a special DIP material that always ensures an optimal grip. If you're looking for all-purpose sticks that won't let you down, the Zildjian 5B Nylon Black Drum Sticks are as close as you're going to come to a sure thing.
Pros
A perennial favorite with traditional and electronic drummers
Outstanding feel, consistent performance
16" in length and .6" in diameter at the widest point
Legendary Zildjian quality
Nylon tip is ideal for electronic sets
Cons
quality of the paint job is uneven
Vater VH5AW Los Angeles 5A Wood Tip Hickory Drum Sticks
The Vater VH5AW Los Angeles 5A hickory drum sticks are some of the most versatile, durable, and in demand on the market. The 5A is weighted toward the tip which gives the stick added momentum and allows you to execute rapid, staccato bursts without having to worry that you'll lose the stick or lose the effect. While hickory is the most popular material for Vater's 5A they also produce sugar maple and other variants to suit both the mood of the material and that of the drummer.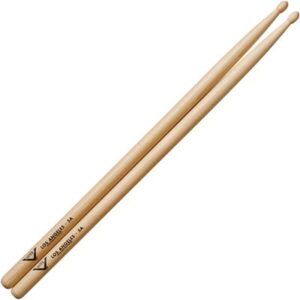 Because the grain of the wood used to create a stick can have a significant impact on whether that stick will warp, crack or break under pressure Vater puts enormous effort into sourcing the hickory for their drum sticks. That grain must be straight and true and, in addition, the hickory must exhibit a specific moisture content; one that won't come back to haunt the stick later. While Vater makes much of their company pledge to make drum sticks that are straighter than the competition the fact is that straight is straight and it's good enough to be able to state with confidence that Vater sticks to hold their line under fire and despite repeated use.
If you are a performance drummer, one who sinks his or her physicality into your work the 5A Los Angeles drum sticks should be on your shopping list. They let you lay down a muscular beat one minute and transition to a rapid-fire attack the next before settling down and establishing a modest beat for the lighthearted pieces. The warmth you'll generate with the wooden tips will enrich the quality of your performance while the impeccable balance of the sticks will allow you to achieve your sonic goals without straining.
Pros
The Vater 5A Los Angeles sticks are heavier toward the end
This forward thrust allows for a greater range of effects
Fashioned from only the highest quality hickory hardwood
Ideal for rock, pop, jazz, or country
Resists warping, cracking, and breaking
Cons
Vic Firth American Classic 5A Drum Sticks
Almost every manufacturer does their take on the standard, long-established, core drum stick sizes and Vic Firth is no exception. Those sizes range from 7As which are relatively thin and of medium length to the 2B which is a robust stick that is typically the thickest and longest you can buy. In between fall the most popular, all-purpose sticks like the 5A. The Vic Firth American Classic 5A is a drum stick after the heart of both pro and inspired amateur alike.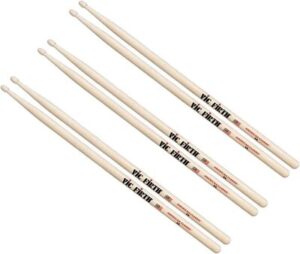 The American Classic 5A from Vic Firth features just a bit more girth and heft than most 5As and that tiny bit of extra weight and dimension produce a fuller, more satisfying tone that many drummers find hard to pass up. The hickory used in its creation is one of the harder woods but not one as hard and unforgiving as oak. As such it retains its ability to generate both heat and cool and allows you to shape your performance in a way that informs the music rather than just reciting it.
Whether you need to display a bit more authority or want to dissolve into the background to let other instruments take the lead the American Classic 5A from Vic Firth lets you have your way. With an additional 1/2 inch in length, they'll also allow you to explore expressive aspects of your set you may not have been aware of. And with their slip-resistant grip, they stay firmly in hand without you having to white knuckle them.
Whether you're a heavy hitter or an easy goer the Vic Firth 5A sure grip drum stick is going to grab your attention the moment you grab it and not let go. These are some of the best non-custom sticks on the market and will more than justify their slightly elevated price point.
Pros
Bring an oomph to the playing you never had before
Each pair is beautifully balanced
Features the revolutionary Vic Grip anti-slip coating
Provides an extra 1/2 inch of length for that little extra snap
Hickory is renowned for its hardness and durability
Cons
Different batches wear differently
Promark H-RODS Hot Rods Drum Stick
Promark takes a slightly different approach to drum sticks, essentially building their sticks to conform to their desired performance standards rather than simply molding them from single pieces of wood. Promark calls their creation the Rod and their Hot Rods are an excellent example of the company's design philosophy at work.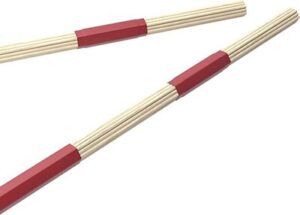 Each Promark Hot Rod is comprised of 19 birch dowels bundled together to produce a drum stick that's as much brush as it is a stick. This type of construction provides both increased springiness for a more authoritative slap should you want it, and a softer, more luscious brush-type effect at the lower ends that takes the edge off without slipping entirely into piano bar mode.
The grip on the Promark Hot Rod drum stick is light and effortless and less prone to slipping out of your hand than that on a comparably sized standard drum stick. In addition, the Promark Hot Rods are less inclined to break than standard sticks due to their bundled construction that helps absorb the shock of impact more effectively. Even if that impact was generated by a less than ideal hit. Promark Hot Rods have inspired several other manufacturers to follow suit but in our humble estimation, the original bundled drum stick from Promark is still the best.
Pros
The bundled construction method creates hard-to-break sticks
A nice firm grip is possible with little effort
Enables a range of sonic textures other sticks can't match
Overall a very durable and versatile drum stick
Built in the USA
Cons
They take some getting used to
Conclusion
While the basic drum stick hasn't changed much in centuries, subtle variations within the medium mean that you'll often get very different sonic effects from drum sticks that otherwise look like they'd produce the same sounds. That's the beauty of choice of course and any of the above-profiled drum sticks will make an excellent choice to accompany you to your next gig or practice session. Whether wood tip or nylon and whether your drum sticks are fashioned from a single piece of hickory or bundles of birch one of the above sticks is sure to light your fire.