Every musician wants to be the best electronic drum sets for their better performance. Electronic drums were introduced during the 1980s and quickly became one of the signature sounds of the decade. Everyone from New Wave British bands to American funk outfits embraced the unique effects that, for better or worse, often sounded a bit like traditional drums being played in a wind tunnel. While grunge music of the late 80s and early 90s pushed electronic drum machines back into the shadows in favor of a more "honest" aural profile the technology simply refused to go away.
What happened instead was that manufacturers of electronic drums got busy improving and refining the technology and by the turn of the century electronic drums were back on the rise. Only this time they were so good that many people weren't aware that the drums on their favorite club track or pop hit were being generated electronically. So it's time to take a fresh look at the best electronic drum sets for beginners below we present the 5 top quality brands on the market today.
Top 5 Best Electronic Drum Set For Beginners
Alesis Nitro Electronic Drum Set
The Alesis Nitro Electronic Drum Set represents a middle ground between the traditional drum set and the compact tabletop electronic set. The practic pads here are suspended on an industrial-looking steel framework that places the different components in space more or less where you would expect them to be on a set of traditional drums. In doing so they provide the beginner with valuable physical training when it comes to the mechanics of using a traditional drum set. They also provide a long-time drumming veteran with a way to make a seamless transition to electronic drums without having to undo everything they've learned about drum striking.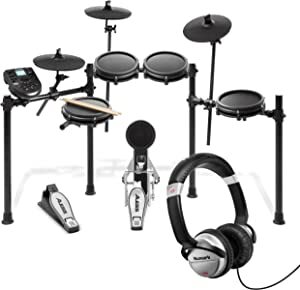 The Alesis Nitro Kit is an 8-piece kit that features an 8" snare, three 8" mesh toms, and three 10" cymbals. There's also a hi-hat pedal designed specifically to work with this setup along with a tough and dependable kick pedal. The toms feature fully programmable sensitivity and dynamic range and the steel tubing in the framework will stand up to whatever type of frenzied bashing you wish to infuse your performance with. Also included with the set is the powerful and versatile Alesis Nitro drum control module. It provides dozens of play-along tracks, a range of easily programmable kit effects, and hundreds of different percussion sound right at your fingertips. And if you want you can connect it directly to your smartphone and play along with your favorite tunes.
The whole setup checks in at 27 x 47 x 43 inches and tips the scales at a very reasonable 50 pounds. About the only thing missing here is the stool, which you'll need to provide yourself. Many will be fine with that because they'll want to find just the right stool for interacting with the set anyway. All that said, here are the pros and cons of this set:
Pros
The ability to create virtually any percussion sound imaginable
Easily programmable drum module
Smartphone compatibility for extending the fun
Great way for a beginner to learn traditional setup
Extremely durable framework
Cons
You may find it rides a bit low
Pyle Electronic Drum Set PTED06
Tabletop units are where electronic drum kits have made some of their biggest leaps forward and the PTED06 from Pyle is a great example. The PTED06 can produce a symphony of drum effects – more than 300 in total – so you're never going to be at a creative loss. The seven different pads on the unit represent toms, high hats, snares, kicks, and an array of cymbals. There's a pair of digital foot controllers as well and the central control unit allows you to easily create or recreate whatever percussive effects you have in mind.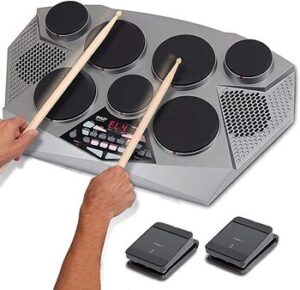 Playing along to established and well-known drum tracks is a great way to learn and this Pyle tabletop unit comes with 120 songs already programmed so you can drum along while getting the feel for the logistics of the unit. You can adjust rhythm, tempo, volume, and EQ and you can partner the unit with your computer or tablet via the USB connection.
Another feature of the "kit" some people will love is the ability to use either the included drum sticks or your own hands to generate your drum effects. "Learning" mode is also great for newbies. And you can monitor your production either through the built-in speakers or by the way included headphones (that way you won't drive your parents or other people in the house/apartment crazy when you practice). Power is provided to the unit by way of either the included charger or six C batteries (not included) in case you're nowhere near a wall plug.
The PTED06 is fully compatible with both PC and Mac so you can play along to the track of your choice from the source of your choice and record your output at the same time for later playback and analysis.
Pros
Sounds great right out of the box
A good tool for teaching young people
portable, no tour bus required
Individual volume control for each pad
Provides a range of sound options
Cons
Pedals could use some refinement
Alesis DM6 USB Eight-Piece Drum Set
Our second Alesis electronic drum set is one of their beginner units that, in all honesty, plays much more like a pro setup than a beginner one. It's a tribute to Alesis that they've been able to cram so much into such an affordable setup and beginners everywhere would be wise to consider the DM6 for their introduction to electronic drumming.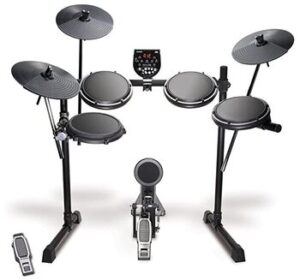 The kit features a robust control module that enables you to generate virtually any type of percussive effect and headphones that let the beginner get their practice in without driving the neighbors mad. There's MIDI for outputting to software on your computer, tablet, or smartphone and more than 100 professional-sounding percussive effects at the ready along with aux input for practicing to one of those aforementioned external devices.
The set is ergonomically accurate as far as replicating the experience of a traditional drum set which makes it a good kit for experienced drummers wanting to try their hand at the electronic realm. There's a standard snare, three toms, two cymbals, a kick pedal, a hi-hat pad, and a controller. Mac and PC compatibility allows you to use the kit as a kind of MIDI controller to generate some very sophisticated effects.
Use the stereo jack on the back of the unit to connect to your mobile device and play along with your favorite online videos or album tracks. Listen to your output either by way of the included isolation headphones or by plugging the unit into your favorite speaker system. The DM6 also provides 40 songs that you can play along to while you get the feel of the kit. Each can be adjusted for volume and tempo so that you don't get lost and once you're feeling confident you can mute the drum track and wing it yourself.
Pros
A robust feature set for a beginner kit
Easy to use control module
Provides a good "in" to the world of traditional drum kits
Wide-ranging interoperability
Very attractive price point
Cons
Limited sonic range on some effects
Gammon Percussion 5 Piece Electronic Drum Set
Sometimes the best way into a new experience is the direct way and that's what the Gammon Full Size Complete Adult 5 Piece Drum Set will provide the beginner. This is an attractive, versatile setup that will provide everything needed to get you off on the right foot and translate what you've learned to the stage. Think it's not robust enough for live performance? Think again. The 5 Piece Adult Set includes everything needed to produce a rock-solid foundation for your favorite rock, pop, hip hop, or dance numbers and is attractive enough to hold its own in any setting.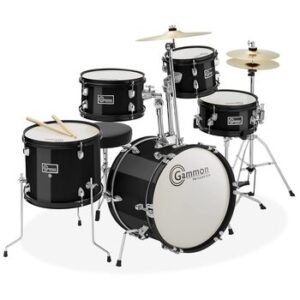 Included in the set are a 22" lug bass drum, two fully adjustable toms, a 16" floor tom, a 5 ½ by 14" wood snare, two hi-hat cymbals, and a 14" crash cymbal. There are also snare and hi-hat cymbal stands, a pair of durable, professional-grade sticks, a chain drive bass pedal, and a comfortable, adjustable drummer's throne from which to control the action.
The Gammon Full Size Complete Adult 5 Piece Drum Set is really simple to set up and fully adjustable to your particular body type and drumming style. As you learn more that style of yours will undergo revisions and the 5 Piece Drum Set will change along with you. Raise, lower, tilt, and rearrange the various components until you find that sweet setup that dovetails with your range, strength, and desired results. Another great aspect of this set is that should you decide to transition to an electronic drum kit in the future you'll be well placed to make the switch without blinking an eye.
So if it's full-featured contemporary drumming you want to explore there's no better place to start than with the Adult 5 Piece Drum Kit by Gammon.
Pros
Fits virtually every body size
Easy to assemble/disassemble
Tuning key included
Handsome durable construction
Very affordable price
Cons:
It's a starter kit. Don't expect it to last forever
Gammon 5 Piece Junior
The Gammon 5 Piece Junior Starter Drum Kit rocks a classic profile and provides everything the beginner will need to start down the road to percussive nirvana. This is a slightly (and only slightly) scaled down version of the above Adult 5 Piece Gammon set up and if not for the color difference it would be hard to distinguish the two from one another.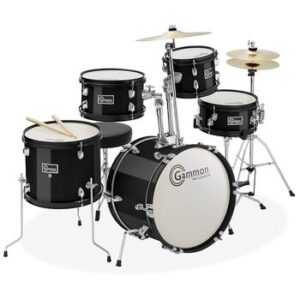 The Junior Starter kit comes complete with two toms, a 16" bass drum, a hi-hat cymbal, crash cymbal, floor tom, snare drum, bass pedal, adjustable throne, and durable drum sticks that will take whatever your son or daughter wants to dish out. It's a comparatively lightweight set with genuine wood shells and a lustrous metallic blue finish. (Be aware however that if your youngster is on the large size this set might be something of an ergonomic mismatch as it's intended for the 12 to 16 or 17-year-olds and not the full-sized adult.)
As your youngster's ability and ambitions develop you'll be able to extend and adjust the settings to meet any requirements by way of add-ons. And should your aspiring rock star damage or destroy a part (it happens) replacements are easy to obtain from the company as well. Should you wish to minimize the noise impact of incessant practicing you can purchase your child one of the above-profiled electronic drum sets. That way they can work things out quietly before returning to this set to demonstrate what they've learned.
This is no goofy, pretend, plastic drum kit. This is a serious piece of musical equipment that produces serious, pro-quality percussive effects and will help your child enter the world of music on the right foot. The whole kit sets up and breaks down quickly and easily and, when broken down, will fit into the back seat of most larger passenger vehicles.
Pros
All the tools to get started with drumming
Genuine wood shells throughout
Attractive metallic blue finish
Ideal for musically ambitious youngsters
Legendary Gammon quality
Cons
Your child will eventually outgrow it
How to Choose the Top Electronic Drum Sets For Beginners in 2022
Unless you have long years of experience with drumming and drums chances are good that you'll need some advice regarding what to look for when selecting a drum kit for yourself or your youngster. Considerations range from whether to purchase a traditional or electronic set (or both), to the programmability of electronic sets and the quality of the shells on a traditional setup. Let's take a closer look at some of those things you'll want to consider:
The age of the drummer – Whether you're looking for an electronic or traditional drum set you're going to need to consider the age of the person who will be using it. Why? Because if you're buying an electronic kit for a child who has never touched a drum before they can easily be overwhelmed if there are too many features, too many programmable choices, too many ways to input and output data, programs, and more. So, when buying a set for an absolute beginner you'll want to keep it simple. If, on the other hand, you're buying the set for yourself and you have some experience with drums you'll want to explore a wider range of expressive options. In addition, when it comes to traditional kits the size of the kit itself is important since most kids will be overwhelmed by an adult kit and adults will be underwhelmed by a kid's kit.
Programmability/Interoperability – Those with some experience as we said will likely want to explore a broader range of expressive possibilities and an electronic drum kit is the best way to do that. One of the many advantages of electronic drums is the ability to sync them or otherwise connect them to other devices to take advantage of various music software programs or to record snippets of your efforts for later playback and analysis. You'll also want a control panel that provides access to an array of easily accessible effects.
The number of pieces – With a traditional set one major consideration is how many different drums you'll want to include in your kit. While most drummers start with a minimal kit they almost invariably reach the point where they want to expand their horizons a bit. So it will be important to find a kit that either has everything you want right out of the box or is scalable so that you can add/subtract from it down the line as your needs and desires change.
Noise – There's no getting around it. Drumming is a noisy occupation and one that is capable of turning long-time friendly neighbors into determined foes in pretty short order. If you live in an area where there are strict noise ordinances you'll want to opt for an electronic kit for your home use. If you have the ways and means you can always keep a "real" set at a practice space somewhere. The electronic kit though will come with earphones so you can hear exactly what you're doing without ever disturbing the peace of the neighborhood.
Price – The great thing about electronic drum kits is that many of them are very affordable. For way less than you'll pay for snow tires for your car you can purchase a high-quality drum set that will last for years. Sure, you can always spend big bucks creating your pro touring kit, but that's hardly necessary to start with.
Features of That Beginners Electronic Drum Kits Must Have
A variety of available sounds and effects – Besides allowing you to practice quietly the other major reason you purchase an electronic drum set is because it allows you access to an array of sounds you would not otherwise be able to create. With a simple tabletop electronic kit, you can summon everything from the sounds of the symphony orchestra drum section to those of the most cutting-edge hip-hop studio efforts and everything in between. If you're an adult with some drumming experience don't shortchange yourself when it comes to taking advantage of these effects.
Compatibility – Another thing you're going to want from your electronic drum set is the ability to connect it to your smartphone, tablet, PC, or Mac to take advantage of various music software and to record and perhaps edit your drumming efforts into other pieces of music you're creating. Essentially you want the electronic drum kit to be a valuable component of your home studio. If it's not you're simply not taking advantage of the potential of such a kit. You'll likely want to access MP3s or other files via a thumb drive or play along with your favorite online videos or sample other drum tracks and incorporate them with your efforts.
Ergonomics – Many people who use electronic kits also have standard drum kits. They simply wish to switch things up once in a while to achieve different effects or to practice quietly. But one thing most of them insist on is an electronic kit that physically resembles a standard kit, complete with a throne and various drums in their traditional locations. This way the drummer doesn't need to relearn the physical aspect of playing drums. Everything is where it should be. Conversely, learning on such a kit will also make it easier to transition to traditional drums later on if you want to. So it's a win-win.
MIDI – MIDI stands for Musical Instrument Digital Interface and is a relatively recent development that lets electronic instruments (such as electronic drum kits) and other digital tools communicate with one another. MIDI itself is not digital music but instead a series of commands that facilitates the interactivity of various digital hardware and software components. A typical MIDI command might be "Note on" which would then result in you hearing a particular note. It's crucial in this day and age that electronic music equipment be MIDI capable, otherwise, it will be little more than a digital island unable to communicate effectively with the outside world.
Conclusion
The best electronic drum sets are state-of-the-art digital tools that enable a level of creative expression once thought impossible. They've advanced by leaps and bounds from the campy, echo machines they were in the 80s and today are capable of creating virtually any percussive sound you can imagine while interacting with a dizzying array of other digital devices and software programs.
If the lure of the backbeat has always drawn you in and you think it might be time to finally indulge your inner Dave Grohl consider one of the above electronic kits. They'll let you get your foot in the drumming door without driving the neighbors bonkers in the process. And when you're ready to transition to a traditional kit or your child wishes to get started with something more tangible, consider one of the Gammon kits also profiled above.