In the 80s the first recognizable drum machines emerged and began to make their presence known in the music studios of the world. Today, no respectable studio or solo performer is without a high-quality drum machine. Some come loaded with built-in patterns. Others allow you to generate patterns of your own. And still, others provide a blizzard of presets and the ability to import your samples.
While most of the action these days has migrated to digital analog machines are still being produced that can more than hold their own, as we'll see shortly. Below are the best drum machine for beginners on the market today.
Best 5 Drum Machine For Beginners In 2022
Roland AIRA Rhythm Performer (TR-8S)
The TR-8S is several steps up from its predecessor in terms of build quality, adopting a more professional profile, and leaving behind the amateur hour plasticity of the TR-8. Behind the scenes, it's not a complete break with the TR-8 past. But there are enough upgrades that make it an attractive choice for those looking to take their game to the next level.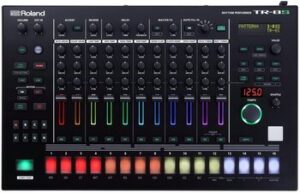 As we said it's not a total break with the past as evidenced by the layout, which is nearly identical to the TR-8. But the new machine allows much greater flexibility when designing your drum tools. There are also more phasing and distortion options than before in addition to upgraded versions of the reverb and delay tools.
If you had the TR-8 you'll find the familiar layout pretty much eliminates the learning curve. And that's something that's going to appeal to a lot of people who don't want to have to learn to walk again every time they upgrade their shoes. The back panel, however, may take some getting used to with its array of new outputs, including a dedicated trigger output.
All in all, this is an extremely versatile machine that will allow you to create a dizzying array of sonic effects, with robust sampling capabilities providing a wealth of flexibility.
Pros
The quality of the effects and the depth of the sound shaping have advanced considerably from the previous iteration.
The ability to assign tracks to either an emulator or your own imported sample widens your mixing horizons considerably.
Each virtual drum kit features enhanced delay and reverb capability that affords satisfying levels of depth and unparalleled customization options.
The TR-8S is endowed with a powerful next-gen processor that allows for an entirely new level of sonic nuance.
Cons
The auto-fill mode is often strangely unsatisfying and it may wind up collecting digital dust over time.
You're going to play until it hurts but it's going to hurt so well.
Arturia DrumBrute Analog Drum Machine
For some, there's simply no substitute for the warmth they feel the analog drum machine provides. And if you're one of those fans of old-school drum machine tech you're going to find a lot to like in the DrumBrute from Arturia. Besides the hard-to-beat price and the pleasing production studio countenance, the DrumBrute provides 17 drum and percussion instruments to fiddle with to your heart's content.
With its 64-step sequencer, sequence looper, and an array of mini jacks through which you can feed the external sources you have immense leeway when it comes to shaping the sonic experience. And isn't that really what it's all about? The ability to explore new sonic vistas? With the DrumBrute you can recall classic sounds and tweak them in ways that carve out entirely new space in the atmosphere.
The DrumBrute also features a dozen outputs (including metronome) as well as a low pass/high pass Steiner-Parker filter and a Step Repeat function that lets you augment your beats in new and compelling ways. If you're looking for a machine that's going to let you go to town with imported samples this isn't it. If, however, you want to lay down an irresistible groove that will open your eyes and bring smiles the DrumBrute Analog Drum Machine is here to help.
Pros
The DrumBrute has a well-deserved reputation for enabling even relative novices to create compelling, original beats.
This is not a machine that's going to let you down live as witnessed by the sequencer's variable bar length, the intuitive nature of the solo/mute buttons, and more.
For an analog machine, it provides a satisfying number of sync possibilities including DIN, MIDI, and 1PPS.
Some will bemoan the relative lack of drum machine options but the ability to carve deep, resonating rhythms from those options will more than compensate.
Cons
Analog is what it is so if you've been spoiled by the all-you-can-imagine digital buffet you may find it wanting.
Novation Circuit Groove Box
If there's one common thread that runs through people's reasons for avoiding or abandoning drum machines it's this: they can be difficult to master if you're not naturally tech-savvy. Novation has heard the cry of the frustrated drum machinist because their Circuit Groove Box doesn't require a degree in electrical engineering with a minor in funkadelia to master.
Some purists might scoff and say that Novation is pandering to the masses, but isn't contemporary music all about accessibility? Of course, it is and always has been since Chuck Berry took the stage armed with nothing more than 4 chords and a duck walk. Another aspect of the Circuit Groove Box that buttresses its everyman credentials is its portability. Because it battery powered you're never shackled to the power grid and can take the groove with you wherever.
From a performance standpoint, the Circuit Groove Box provides robust delay and reverb effects and 32 slots for saving your sessions. It also allows you to import your custom samples and integrate them in myriad ways. On the downside, memory is somewhat limited. But that's pretty much par for the course for a machine of this price. And the speaker it comes with will leave those with a keen ear for sonic detail shaking their head. But if you're looking for an easy-to-use entry-level drum machine we would heartily recommend the Groove Box.
Pros
The ability to add some pretty incredible reverb and delay effects is nice to see in such an affordable machine.
We always love having the ability to import our samples and the Circuit Groove Box provides us that.
Battery power is just one more way the Groove Box sets itself apart from a versatility standpoint.
With 32 slots to save your sessions you should never be left feeling like the machine let you down.
Cons
The speaker is nothing to write home about. But at this price, it's about the best you're going to get.
Alesis SR18 18 Bit Portable Drum Machine
Good things often come in small packages and there's a lot you're going to like about the compact Alesis SR18. This is a small, portable, battery-powered unit that embraces percussion and bass effects which allow for an insane degree of one-stop-shop creativity. Beneath the rubbery, oddly pleasing knobs lies a virtual studio waiting to be exploited by a fertile imagination attached to a keen ear.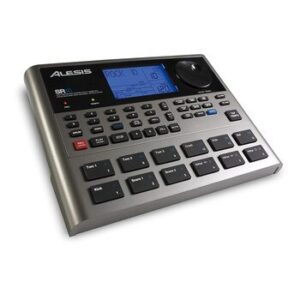 The SR18 is an upgrade of the SR16 and a substantial one at that. Whereas the earlier machine only allowed programming of a single drum kit the SR18 drops 102 percussion sounds in your lap along with 50 bass instruments. All of which are fully programmable themselves. The difference is akin to trading in your Impala for a Corvette.
And these aren't just throw-away sounds the company is including to create the appearance of abundance. They're high-quality, artifact-free samples that occupy a wide sonic range and enable you to generate textures you might have thought were beyond your reach. All told you to have more than 500 sounds, 175 rhythm presets, and countless drum and bass sound at your disposal. Bottom line; this is a versatile, affordable, easy-to-use upgrade of the SR16. One that deserves having the term "upgrade" attached to it.
Pros
From country to hip-hop the SR18 has just about every musical angle covered.
It provides such a range of cutting-edge kits, hits, and percussive sounds it may make you forget about your analog machine.
Being battery-powered is always a plus since you never know when or where inspiration is going to strike.
It's extremely compact as well so bringing it along wherever you roam is not some pipe dream.
The ability to add a modicum of foot pedal control is another positive. Though it will cost you.
Cons
The fact that you can't permanently delete the bass tracks that come with the presets is an annoyance we could live without.
Arturia DrumBrute Impact Analog Drum Machine
The last item on our list of best drum machines is the little brother of Arturia's DrumBrute. The DrumBrute Impact is a scaled-back version of its much-respected predecessor that retains some of the best elements of the larger, more expensive model. Yet it also carves out enough of its territory to prompt serious consideration as an alternative to its big brother.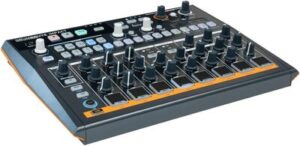 Like its sibling, this is a strictly analog machine so you won't be able to run your extensive sample library through it. But analog machines have charms of their own including what many feels is a warmer, more accessible, and relatable tone. The Impact features 10 instruments, compared to the 17 offered by the more expensive version. Each is endowed with adjustable parameters and separate color functions. Sequencing is uncomplicated and based on the standard 16-step, 4-bar pattern.
The Impact offers looper and roller functions. But the real star here is the distortion function, which enables you to create textures unavailable to users of the larger more expensive model. These alone are worth the price of admission. Throw in the fact that the Impact is easy to program and routinely produces compelling, high-quality sounds and you have a value winner for the analog beginner.
Pros
For the price this is an exceptionally versatile drum machine that allows for MIDI sequencing as well as sequencing with a digital synthesizer or another machine.
The pads allow you to play live should the impulse strike you, which is a nice touch that allows you to retain spontaneity.
With a roller, looper, distortion, and randomness settings the only limit is your imagination and the amount of time you have to play.
While the Impact "only" has 10 instruments (as opposed to the DrumBrute and its 17 instruments) the inclusion of the distortion unit adds expressive possibilities unavailable with its more expensive predecessor.
Cons
It's an analog machine so it's simply not going to offer the mind-blowing array of options its digital counterparts will.
If you're into creating and uploading your samples you won't be able to do that with the Impact.
How to Choose the Best Drum Machine For Beginners
Whether you're in a band, work in a club, or want to set up your recording studio a good drum machine must have a creative kit. Now you may be skeptical about whether you need a drum machine. But once you have one you're likely to wonder whatever made you think you'd get along without it. Drum machines aren't normally cheap though, so you'll need to have some idea of what exactly you're looking for before you decide to plop down your hard-earned money on one. Here are some typical considerations for those planning on buying a drum machine:
Way back in the day (that would be the 1980s) drum machines were big, bulky things that were anything but easy to tote around. In the years since however, they have come down significantly in size, mostly due to the rise, and subsequent shrinking of, the computer chip. Today's machines, as represented by the items reviewed above, are compact marvels that pack enormous amounts of expressive power. Still, some (not all) of the very small ones with their often tiny control knobs, can be difficult to manipulate in a live setting.
If you are setting up a home recording studio or simply want to add a high-quality drum machine to your existing studio, you'll likely want to choose a larger unit. It's not only easier to achieve precise control over them, but they also offer a wider range of musical possibilities. On the other hand, if you are simply looking for something you can use when jamming with your friends a smaller unit is probably the better choice. You may also want a battery-powered one.
Some swear they can tell the difference in tonal quality between an analog and digital drum machine. But truth be told digital units have progressed sufficiently that there is virtually no difference these days. And – although you'll probably find some analog die-hards who disagree – if you are looking to recreate real-world drum sounds analog simply isn't able to keep up with digital anymore.
If you're going to shell out a considerable amount of money for a drum machine you'll want to be sure it has plenty of pattern memory. This is especially true if you are a solo performer. That's because solo artists need to have their hands as free as possible to do things like trigger sequencers and such. If they are constantly having to fidget with controls in search of the right pattern they lose their ability to be spontaneous and their propulsive creation begins to disintegrate. Bottom line, if you're going to drop serious cash on a drum machine it should be as autonomous as possible. Look for things like song mode that allow you to create sonic chains. Perhaps it doesn't need stating but if you work primarily in the studio having a treasure chest full of memory isn't as important since you can take your time constructing your music.
A sampling drum machine is not the same as a sampler but it works on the same concept. A sampling drum machine will typically play shorter phrases than a standard sampler which you can interject when you need to add a bit of oomph to a piece. Not every drum machine allows you to upload samples. So if this is important to you make sure the drum machine you have your eye on allows you to use your samples before you fork over your money.
Conclusion
The drum machine has come a long way in the past 30 years. Like just about everything else it has been affected at a fundamental level by the digital revolution. Some of the drum machines profiled above provide our electronic drum guy team a great starting place for novices intent on creating their own compelling music experience. While others are perfect for sonic veterans determined to push the envelope and open the minds of their audience to new possibilities. Keep the above considerations in mind when searching for your perfect drum machine and you're sure to wind up with one that will serve you and your audience well for years to come.